Holy Cross High School Action to Better Mental Health
Holy Cross High School in Hamilton has brought together pupils, teachers and stakeholders from the local community to launch their Mental Health & Wellbeing campaign. The school has partnered with Stigma Free Lanarkshire as part of their commitment to tackling mental health stigma and discrimination. The school proudly signed the pledge on the 5th of February along with SFL partners NHS Lanarkshire. This pledge to action is an ongoing action plan that not only promotes mental health and wellbeing but also tackles the stigma and discrimination that often surrounds it. The aim is that the children, teachers and families will have a better understanding around mental health issues, stigma, discrimination and the impact that they can have in everyday life.
"We are committed to tackling stigma and discrimination in our school and beyond. The stigma surrounding mental health issues remains a significant barrier for people. It can prevent them seeking support, hinders recovery, limits opportunities, and negatively impacts on the quality of life of people, their families and wider communities. Therefore, we pledged our commitment to join a movement for change."  Carla Fagan, Head Teacher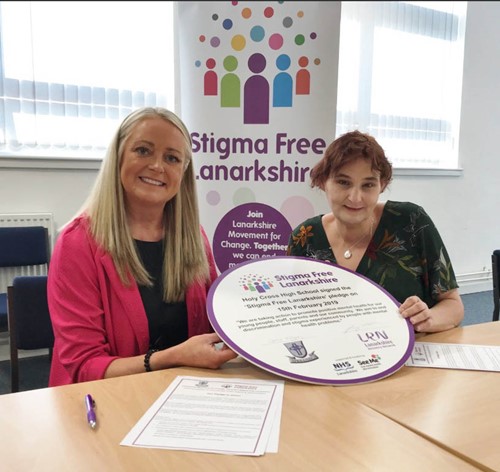 With 1 in 10 young people experiencing mental health issues in Scotland, Holy Cross High has launched a Wellbeing Room that provides a quiet, safe place and many of the staff are trained in Mental Health First Aid.  Staff, pupils and families are being encouraged to use three simple words "How are you?". It's been recognised that this can make a huge difference to someone. So ask, actively listen and help break down mental health stigma by normalising conversations around mental health.
 "It was an inspirational visit to Holy Cross.  The passion and commitment to positive mental health was evident. Seeing our next generation of kind, responsible, caring people with a knowledge and understanding of looking after themselves and others, seeing young people who champion anti stigma messages and anti bullying, and seeing a school that prioritises emotional wellbeing and mental health makes me smile from the inside out.  Well done Holy Cross. Your pledge signing will stay a beacon of hope for our young people across Lanarkshire." Jenny Hutton - Interim Public Mental Health and Wellbeing Development Manager, NHS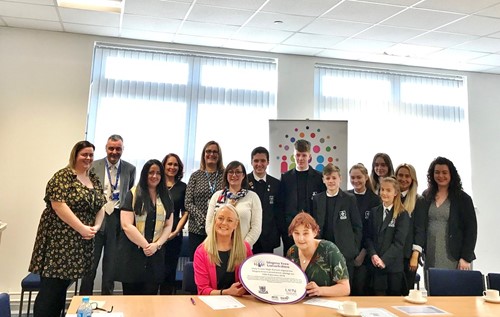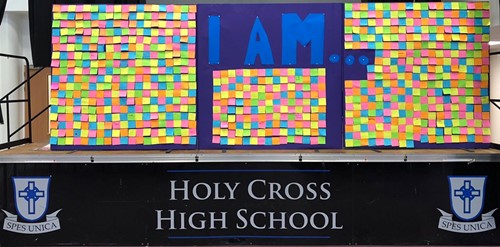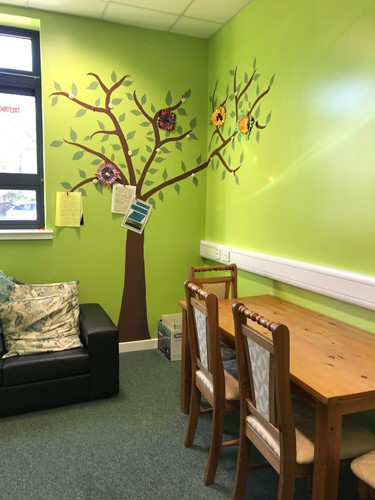 Attending
S4 pupils
Carla Fagan – Head teacher
Kirsty Grant – Health and Wellbeing Leader
Karina Sneddon – PT Pupil Support
Angela Crawley – Hamilton East MP
Denise McAinsh – Parent Council
Alex MacLeod – SLC Inclusion Manager
Jenny Hutton - Interim Public Mental Health and Wellbeing Development Manager, NHS
Susan McMorrin – Senior Health Promotion Officer, NHS
Audrey Bremner – Development Officer, Stigma Free Lanarkshire 
If you need support now you can contact:

NHS24 – Phone 111 to access urgent health advice out of hours when your GP practice is closed.
Breathing Space – 0800 83 85 87 (free to call 6pm – 2am)
www.breathingspacescotland.co.uk
Samaritans – 116123 (free 24 hr service) www.samaritans.org
Childline 0800 1111 (free 24 hr service) www.childline.org.uk
If you would like to learn more about Stigma Free Lanarkshire visit http://www.elament.org.uk/lanarkshire-recovery-network/ or telephone 01698 265232.
Back to news