Cookies are used to:
Measure how you use the website so it can be updated and improved based on your needs
Remember the notifications you've seen so that we don't show them to you again
Find out more about how to manage cookies.
How cookies are used on Elament.org.uk
Measuring website usage (Google Analytics)
We use Google Analytics software to collect information about how you use Elament.org.uk. We do this to help make sure the site is meeting the needs of its users and to help us make improvements, for example improving site search.
Google Analytics stores information about:
The pages you visit on Elament.org.uk
How long you spend on each Elament.org.uk page
How you got to the site
What you click on while you're visiting the site
Make our website work as you'd expect
Remember your settings during and between visits
Improve the speed/security of the site
Allow you to share pages with social networks like Facebook
Continuously improve our website for you
We don't collect or store your personal information (for example your name or address) so this information can't be used to identify who you are.
Google Analytics sets the following cookies:

You can opt out of Google Analytics cookies.
Necessary cookies
Necessary cookies help make a website usable by enabling basic functions like page navigation and access to secure areas of the website. The website cannot function properly without these cookies.

Statistics 

cookies
Statistic cookies help website owners to understand how visitors interact with websites by collecting and reporting information anonymously.

Marketing cookies
Marketing cookies are used to track visitors across websites. The intention is to display ads that are relevant and engaging for the individual user and thereby more valuable for publishers and third party advertisers.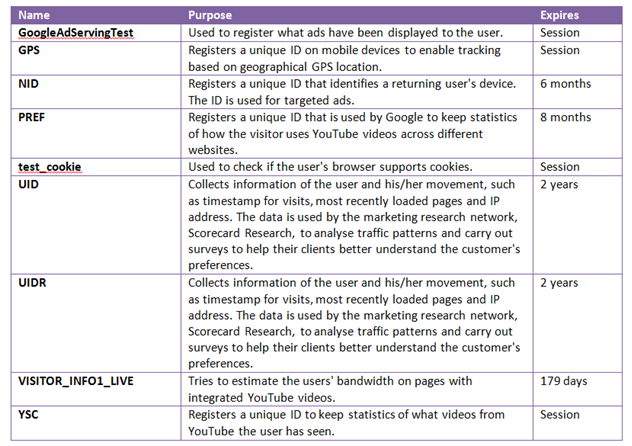 Embedded content
On some pages of our pages, we may include embedded content, for example from Vimeo. When you visit a page with embedded content, the service provider (for example, Vimeo) may set its own cookies on your web browser to track the success of their application or to customise their application to you. 
elament.org.uk does not control the use of these cookies and cannot access them, as cookies can only be accessed by the party who originally set them.
You should check the third party websites for more information about these cookies. 
We have set out links below to some of the impression tracking cookies that are used with instructions on how to opt out of their cookies. 
Vimeo: https://vimeo.com/cookie_policy